Long-Term Strategy Focused on Becoming
New Generation Digital Champion
---
Our Axiata 3.0 blueprint is focused on our triple core businesses of Digital Telco, Digital Businesses and Infrastructure that will lead us towards becoming a Digital Champion. Axiata 3.0 drives the execution of strategies we have identified to move from a traditional mobile operator into a Digital Telco; to harness the exponential growth within the four verticals of our digital businesses; and catalyse the expansion of our regional tower company to become a global entity. Our Axiata 3.0 strategy is targeted towards delivering overall, moderate growth and moderate dividend.
Digital Telco
Execution Strategies
Convergence
Enterprise
Network & IT Superiority & Digitisation
Consolidation or Exit
Cost Optimisation
From Mobile to
Digital Telco
Investor Proposition
Moderate Growth & Dividend
Digital Businesses
Digital Financial Services
Digital Advertising
Enterprise Solutions/
Internet of Things (IoT)
Digital Platforms
Execution Strategies
Double-down on New Core
Ecosystem Dominance
Support & Leverage Digital Core
Monetisation or Exit
From Portfolio to 4 Lines of Operational Businesses
Investor Proposition
Exponential Growth
Infrastructure
Execution Strategies
Organic & Inorganic Growth
Monetisation
From Regional to
Global Scale
Investor Proposition
Short-term double digit growth, long-term sustainable dividend
Overall, moderate growth & moderate dividend
8 Needle-Moving Strategic Initiatives
---
Based on our Axiata 3.0 blueprint, we have identified 8 needle-moving strategic initiatives to generate outcomes aligned with our New Generation Digital Champion ambition by 2021.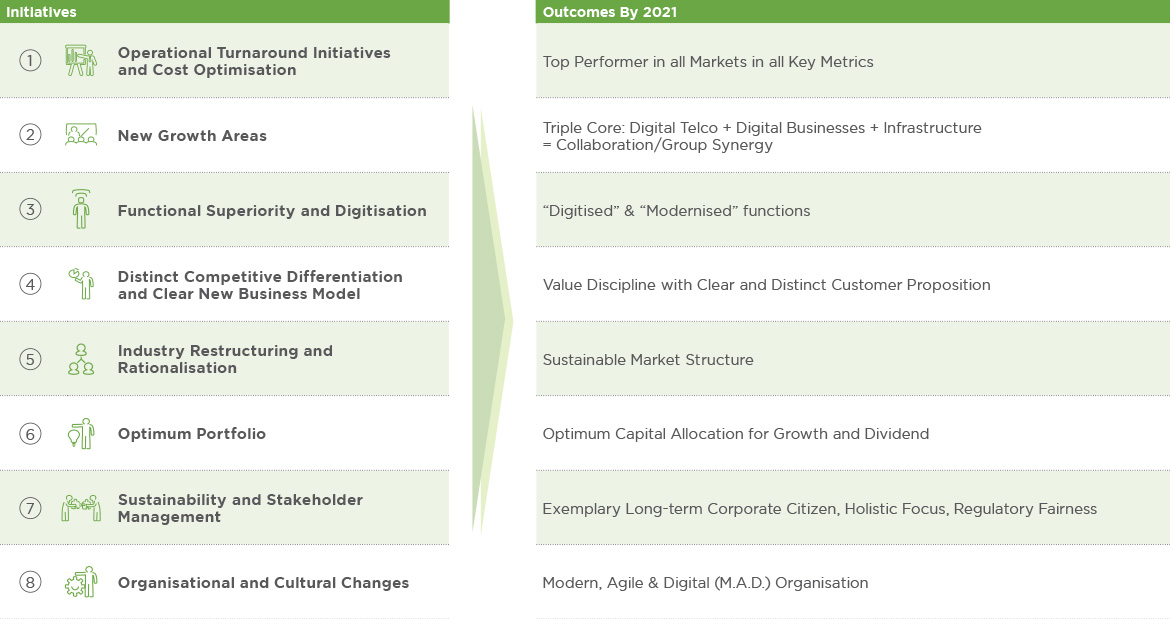 Axiata Engagement Model & 8 Principles
---
As a telecommunications group with one of the largest and most diverse portfolios of assets in Digital Telco, Digital Businesses and Infrastructure, Axiata operates on a unique engagement model on how it engages and managers the companies under its stake.
The engagement model, developed around eight business critical principles are either centralised or centrally coordinated, as well as standardised and harmonised across the Group. Our engagement model is premised on empowering our businesses and OpCos in implementing our Axiata 3.0 blueprint and our 8 needle-moving initiatives to collectively achieve our ambition of becoming a New Generation Digital Champion.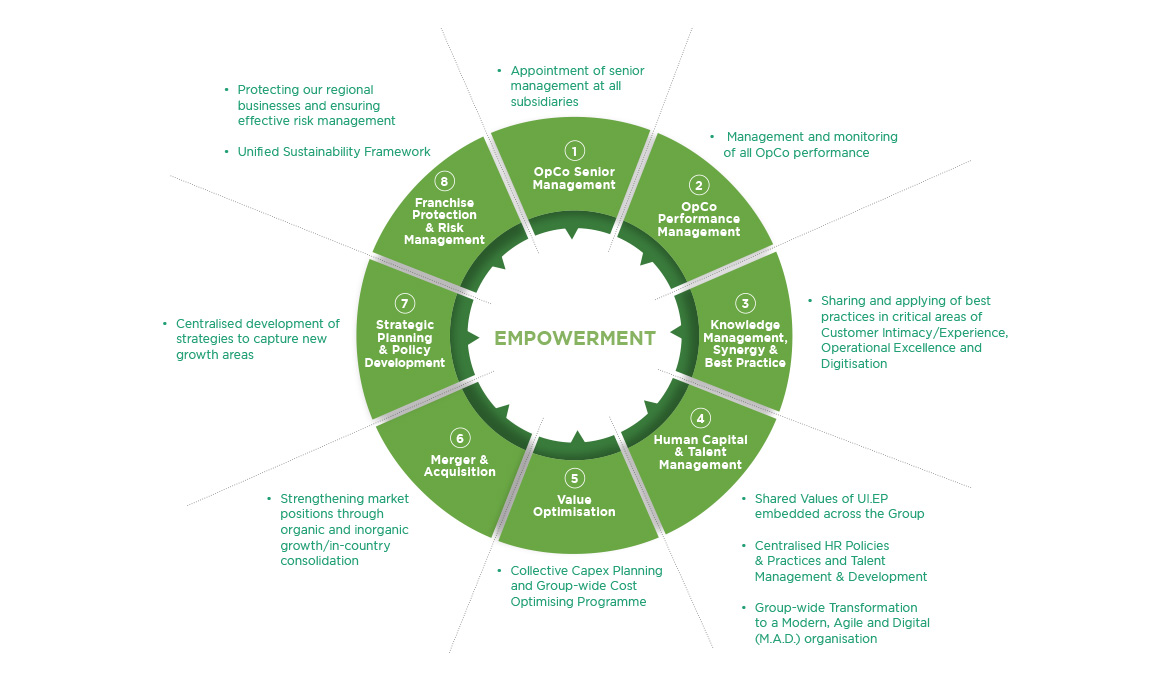 Embedding Sustainability into our Strategy
---
In our broader goal of Advancing Asia, Axiata is increasingly committed towards a digitally sustainable and greener future. We are leveraging on our growing presence in ASEAN and South Asia to play a fundamental role in the socioeconomic development of communities in our markets of operation.
Sustainability Framework
Our 4P Sustainability Framework was developed aligned to Bursa Malaysia's Sustainability Framework. The framework covers our material issues in Economic, Environmental and Social (EES) impacts of our business. The framework has been refined to align with our New Generation Digital Champion by 2021 ambition and stakeholders' need for greater transparency of disclosure.
Beyond Short-Term Profits
Long-Term Investments
Digital Ecosystems
Digital Inclusion
GSMA Partnership
Nurturing People
Nurturing Future Leaders
Culture of Integrity & Performance
Diversity & Inclusivity
Conducive Workplace
Process Excellence and Governance
Best Practices Across the Value Chain
Customer Centricity
Digitising Processes
Strong Governance
Planet and Society
Environment Management
Disaster Management & Response
Corporate Responsibility
Sustainability Governance
The Group Chief Corporate Affairs Officer is responsible for the governance of the Group Sustainability Framework. The Group Sustainability Team, helmed by the Head of Group Corporate Communications and Sustainability, is responsible for the day to day operations. The Sustainability Team ensures compliance of the Group Sustainability Policy, conducts stakeholder engagements, updates material issues, standardises data collection and management systems, and provides advisory support and capacity building to OpCos.
Sustainability Teams at OpCos align and localise the Group's Sustainability Framework to their national context. They are responsible for the daily operations, implementation of programmes and data collection to support Group's Sustainability Framework. OpCos are encouraged to produce their own Sustainability Report in compliance with the most current Global Reporting Initiative Standards.
Axiata is a member of the Advisory Council of the Global Compact Malaysia, and a Board Member of the GSMA Foundation, which is committed to the development of mobile innovations that empower and enrich local communities.
Our Operating Environment
---
Axiata operates within a regional operating environment, marked by the complexities of its 11 individual markets of operations, juxtaposed within the overall global economic and telecommunication industry trends and challenges. In 2017, the Group's operational businesses and OpCos faced multiple challenges arising from macroeconomic conditions, a shifting regulatory environment, the prevalent digital shift and an intensely competitive landscape.
1 Source : "World Economic Outlook Update", published by the International Monetary Fund in July 2017
2 Source : "Economic Snapshot for ASEAN" by David Ampudia, Senior Economist published in FocusEconomics in February 2018
3 Source : "South Asia Regional Update", published by the International Monetary Fund in May 2017
4 Source : BMI Research as quoted in the news article "BMI Research: Ringgit to continue to strengthen against USD" published in The Star (Malaysia) on 26 September 2017
5&6 Source : "Global Mobile Consumer Survey : Southeast Asia edition", published by Deloitte published in January 2017
7 Source : "Indonesia Country Commercial Guide", published by the U.S. Department of Commerce's International Trade Administration
Management of Material Risks and Opportunities
---
Axiata uses an integrated assurance methodology to manage our risks and opportunities, to catalyse long-term value creation. The following outlines our material risks, along with our Group's exposure and potential impacts, and identifies mitigation measures which are linked to our Axiata 3.0 strategy and future opportunities.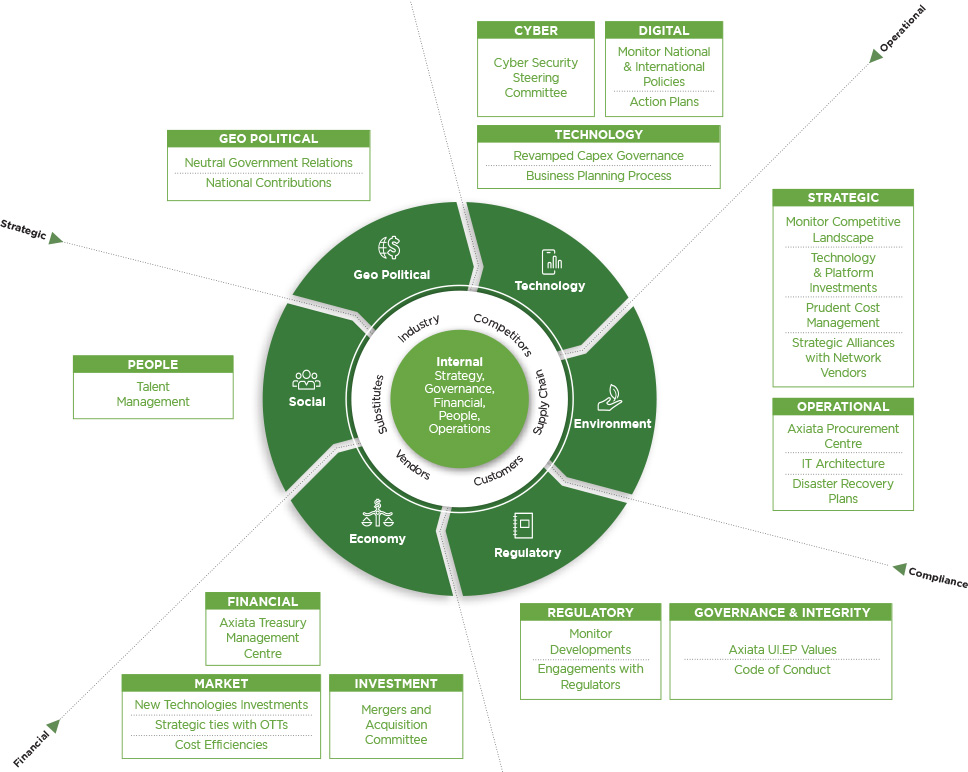 Stakeholder Engagement
---
Axiata's ability to create value relies on successful interactions with our diverse groups of stakeholders. Our stakeholder base cuts across our Group presence in ASEAN and South Asia. Each of our stakeholder groups significantly impact our regional business which sees us within multiple roles including being an employer, communications provider, technology innovator and infrastructure developer.
In order to clearly understand our various stakeholder groups' concerns and identify the most effective response to issues raised, we conduct continuous, consistent and targeted stakeholder engagement sessions. The outcomes of these sessions informs our material issues, our strategy development, and our risk management.
Customers
How We Engage
Net Promoter Score
Brand Equity Score
Social Reputation Score
Subjects Raised
Customer experience
Product affordability
Network availability
Axiata's Response & Results
Continuously enhancing customer experience
Digitising processes
Digital self-care apps
New digital products and services
Employees
How We Engage
Employee Engagement Survey
Town Hall Meetings
Subjects Raised
Career and talent development
Employee communication
Axiata's Response & Results
Group and OpCo Talent Development programmes
Organisational transformation to Modern, Agile and Digital (M.A.D.) Organisation
Shareholders
How We Engage
Annual General Meeting
Investor Roadshows
Analyst Meetings
Subjects Raised
Business performance and strategy
Axiata's Response & Results
Total Shareholder Return
Return on Investment
Share Price
Regulators & Goverment
How We Engage
Proactive engagements
Payment of taxes
National contributions
Subjects Raised
Information security
Spectrum allocations
Compliance with regulations
Axiata's Response & Results
Employment of citizens
Capex and opex contributions
Gross Value Added contributions
Suppliers
How We Engage
Biennial Axiata Supplier Awards
Annual Supplier Forum
Supplier Performance Management
Subjects Raised
Procurement practices and payments
Vendor delivery and performance
Compliance to the Supplier Code of Conduct
Axiata's Response & Results
Local vendor sourcing
Bumiputera Empowerment Agenda
Axiata Partner Development Programme
Axiata's Supplier Code of Conduct
Media
How We Engage
Media interviews
Press conferences
Media releases
Subjects Raised
Corporate developments
Financial performance
Axiata's Response & Results
Network updates
M&A updates
Triple Core Strategy and performance updates
Community
How We Engage
News media, social media pages and company website
Corporate Responsibility Programmes
Needs assessment of local stakeholders
Subjects Raised
Digital inclusion to ensure no one is left behind
Pre and post disaster assistance
Building capacity of future leaders
Addressing social needs
Axiata's Response & Results
Disaster Management and Response Initiatives
Digital and Financial Inclusion Initiatives
Axiata Young Talent Programme
Axiata Digital Innovation Fund
Major contributor to the economies of the markets we operate in