The Axiata Group
---
Axiata is one of the leading telecommunications groups in Asia with approximately 350 million customers in 11 countries in ASEAN and South Asia. The Group is listed on the Main Board of Bursa Malaysia Securities Berhad and ranks as the sixth largest company on the bourse as of 31 December 2017.
In pursuit of our vision to be a New Generation Digital Champion by 2021, the Group has transformed itself from a holding entity with a portfolio of pure-play mobile assets into a Triple Core Strategy driven business focus to include Digital Telco, Digital Businesses and Infrastructure. With a broader goal of Advancing Asia, Axiata pieces together the best in the region in terms of innovation, connectivity and talent. As a long-term investor in all our markets, Axiata remains committed to its role as a responsible corporate citizen, to make a difference in people's lives and help transform the countries in which it operates.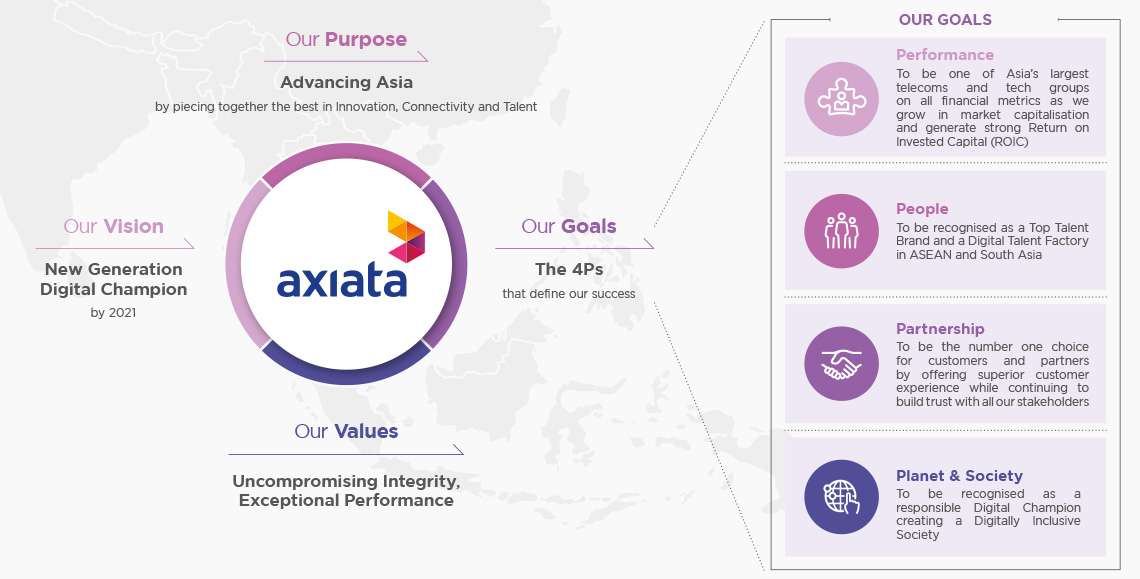 Embarking on Axiata 3.0
with a Triple Core Strategy
---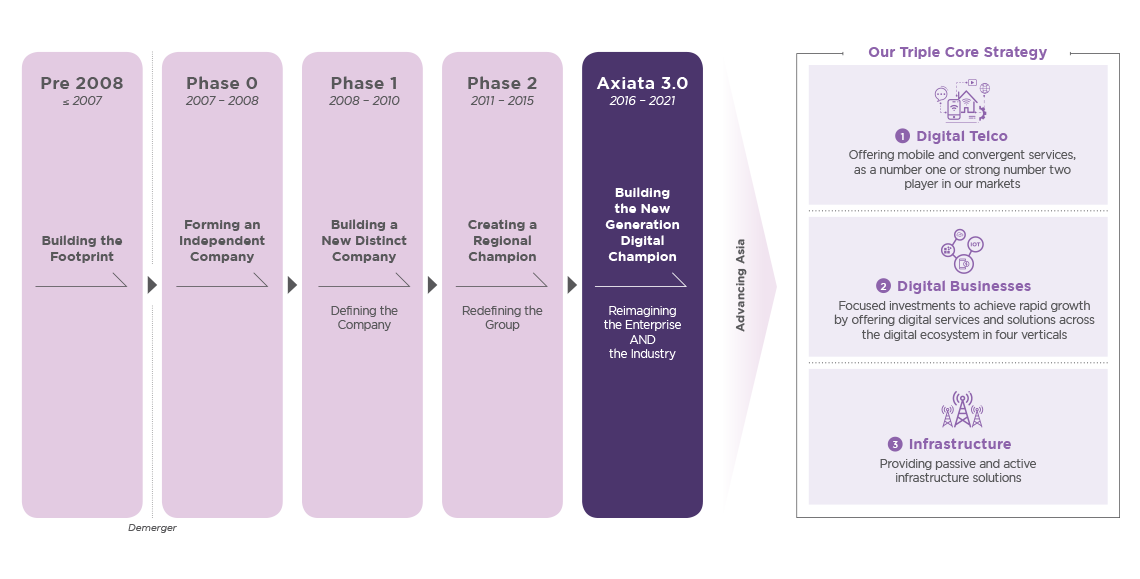 Axiata has completed two distinct phases of growth since our inception as an independent company in 2008. With the conclusion of Phase 2 in 2015, we have established Axiata as a Regional Champion providing digital and mobile services to approximately 350 million customers across ASEAN and South Asia, as well as being recognised as a responsible corporate citizen and committed long-term investor.
In Phase 3, 'Axiata 3.0' is the playbook guiding the Group's key strategic decisions on Axiata's journey to become a New Generation Digital Champion by 2021. Axiata 3.0 has evolved into a clearer heading of the core composition and priority growth pillars. Aligned with our core business pillars of Digital Telco, Digital Businesses and Infrastructure, Axiata 3.0 has further refined the strategy of the business moving forward.
Triple Core Strategy at Centre Stage
---
While building a leading regional mobile operations, Axiata also made its move into adjacent businesses in 2013. First, in carving out its tower assets into a regional independent tower company. Second, by building a digital business unit with a portfolio of investments to explore market opportunities in the area.
Today, Axiata's business has been reimagined and redefined into a triple core growth engine with the operational businesses of Digital Telco, Digital Businesses and Infrastructure.
Digital Telco







Digital Businesses
Digital Financial Services
Digital Advertising
Enterprise Solutions/
Internet of Things (IoT)
Digital Platforms



Infrastructure

Axiata 3.0 has been strategised based on long-term external factors of macroeconomic conditions, regulatory environment, digital shift and a competitive landscape.
Core 1 Transforming Mobile Operators to
Digital Telcos with Digitisation and Convergence
---
Digital Telco
Axiata has grown to become a leading regional mobile network operator since its inception in 2008. Axiata today connects and provides telecommunications services to approximately 350 million customers in ASEAN and South Asia, compared to 40 million when we began.
In becoming a true Digital Telco, we have been reshaping the industry landscape in our markets. Focused on network and IT superiority and digitisation, we are reimagining our business systems to provide innovative, digitised offerings and experience for our customers. In selected key markets, through modest investments, the Group is also capturing opportunities in convergence to ensure long-term growth.
At end 2017, Axiata is one of the largest telecom operators in ASEAN and South Asia with approximately
350
million
customers
---
Ranked
No.2*
in customer base
* Axiata's customer base is benchmarked against regional peers with similar footprint within the ASEAN and South Asia regions.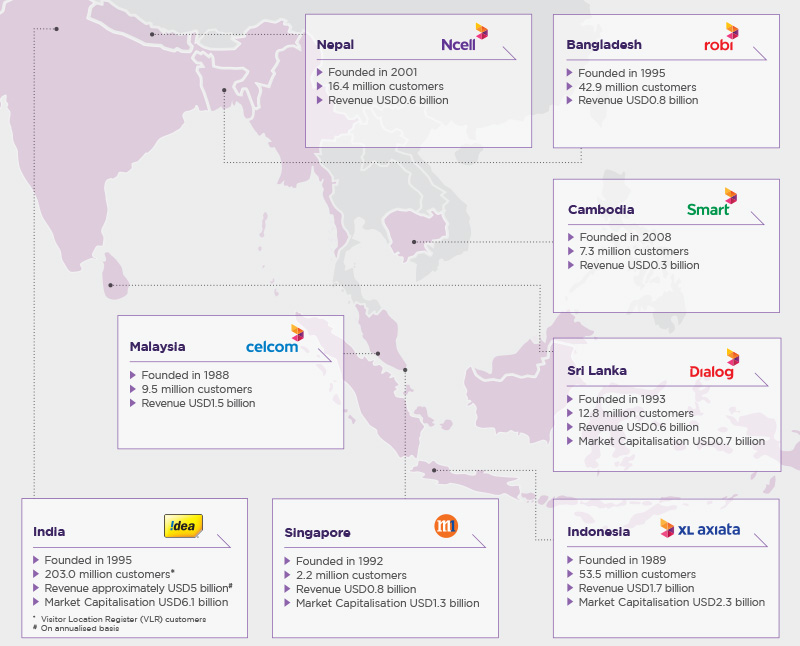 Core 2 Pivoting into Four Lines of
Operational Digital Businesses
---
Digital Businesses
Axiata's Digital Businesses today spread across two distinct digital operating companies, Axiata Digital Services or Axiata Digital, and Axiata Business Services, which operates under the brand Xpand. Together, these digital businesses are involved in key verticals of Digital Financial Services, Digital Advertising, Enterprise Solutions/Internet of Things (IoT), and Digital Platforms. Under these verticals, our digital portfolio pivots into four lines of operational businesses to capitalise in the multi-billion dollar digital market opportunities.
Through these digital businesses, the Group is creating new sources of revenue stream as part of our New Generation Digital Champion ambitions. The Group targets to create valuations of USD1 billion for each of these lines of digital businesses.

~2.2 million
users
>11,000
payment touchpoints
---
>200%
gross value transaction increase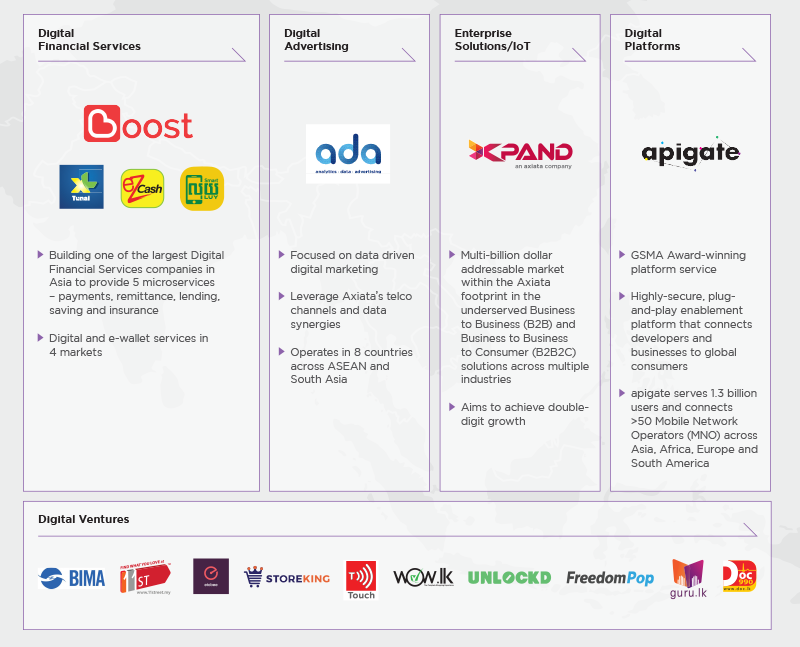 Core 3 Fast-growing Regional Independent
Tower Company to Global Scale
---
Infrastructure
Axiata's infrastructure and services company, edotco, is the first regional and integrated telecommunications infrastructure services company in Asia. Over the last five years, edotco has seen significant portfolio expansion through both organic and inorganic growth to become the 12th largest independent tower company globally.
The Group is determined to make edotco a world-class business and one of the world's largest independent tower companies by 2020. edotco's core innovation focus is in green solutions.
> 27,500
Towers owned, managed & operated
---
696
Green Sites
Comprising of renewable energy and alternative material sites
---
All time high Group tenancy ratio at
1.57x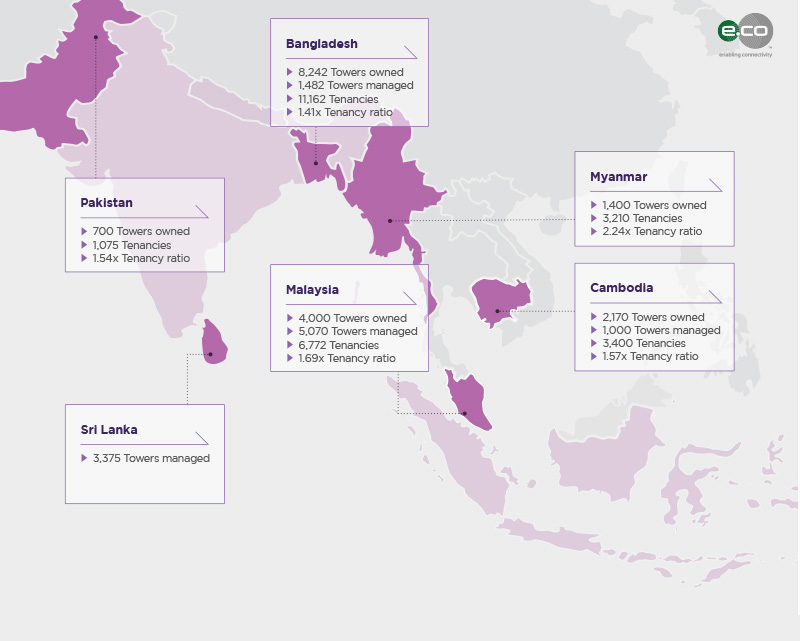 Core Values Embraced Across the Group
---
Code of Conduct
Axiata is committed to conduct its business fairly, impartially and in full compliance with all applicable laws and regulations in Malaysia and in countries where the Group operates.
The Group's professionalism, honesty and integrity must at all times be upheld in all of the Company's business dealings by all employees.
Axiata has a Code of Conduct that serves as our commitment in ensuring our business dealings are conducted in a manner that is efficient, effective and fair. Axiata ensures that it is the responsibility of every employee to act in accordance with the policies detailed in the Group's Code of Conduct.
Full Axiata's Code of Conduct is available at https://axiata.com/corporate/corporate-governance/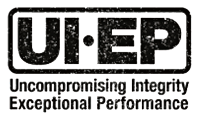 1
Uncomrpomising
Integrity
Always doing the right thing and fulfilling promises made to earn the trust of our stakeholders
We are committed to upholding the highest standards of lawful and ethical conduct, and in demonstrating honesty, fairness and accountability in all our dealings
2
Exceptional
Performance
Always pushing ourselves to deliver benchmarked outstanding performance
We are determined to be the winner, leader and best-in-class in what we do. Whilst we are tough with performance standards, we are compassionate with people – we call it Performance with a Heart
These two values are incorporated into the existing values of the individual Operating Companies (OpCos) which include amongst others service excellence, teamwork, creativity and customer centricity.
Shareholding Structure and
Portfolio of Investments
---
Shareholding Structure and Portfolio of Investments
As an emerging leader in Asia's telecommunications landscape, Axiata made an impressive debut on the Main Board of Bursa Malaysia on 28 April 2008. As of 31 December 2017, Axiata is the sixth largest listed entity on the FTSE Bursa Malaysia KLCI (FBMKLCI). With Khazanah Nasional Berhad as its largest shareholder, Axiata's shareholding breakdown constitutes a diverse and balanced mix of both local and foreign institutional investors, a testament to its strong business fundamentals, long-term growth prospects and investor proposition.
As a leading telecommunications group in Asia and with majority stakes in Mobile Operators, Digital Businesses and Infrastructure assets, the Group continuously reviews various strategic portfolio options to ensure long-term value enhancement, and optimal deployment of capital and funding for our growth strategies.
Over the last two years, Axiata has attracted high-quality equity partners in some of its best performing companies.
Equity partnerships:
November 2016, Bharti Airtel Limited at Robi Axiata Limited
January 2017, Innovation Network Corporation of Japan at edotco Group Sdn Bhd
April 2017, Kumpulan Wang Persaraan (Diperbadankan) at edotco Group Sdn Bhd
May 2017, Mitsui Co., Ltd at Smart Axiata Co., Ltd

MOBILE SUBSIDIARIES

Year of Investment/ Shareholding:
2008/100%

Year of Investment/ Shareholding:
2005/66.4%

Year of Investment/ Shareholding:
1995/83.3%

Year of Investment/ Shareholding:
1996/68.7%

Year of Investment/ Shareholding:
2013/82.5%

Year of Investment/ Shareholding:
2016/80.0%
NON-MOBILE SUBSIDIARIES & ASSOCIATES / AFFILIATES

Year of Investment/ Shareholding:
2014/100.0%

Year of Investment/ Shareholding:
2016/100.0%

Year of Investment/ Shareholding:
2012/63.0%
MOBILE ASSOCIATES / AFFILIATES

Year of Investment/ Shareholding:
2008/16.3%

Year of Investment/ Shareholding:
2005/28.7%
* Comprise of total shareholdings held by trust funds managed by Permodalan Nasional Berhad