Long-Term Investment
Investing Long-Term in All our Markets
---
We have been partners of nation building in ASEAN and South Asia for more than 15 years. Through our capital expenditure in building a world-class network, procurement from local suppliers, and nurturing the development of our local employees, we have demonstrated our commitment to long-term value creation for the region.
We are the largest foreign direct investor in a number of markets where we are present. In 2017 we contributed over USD15.9 billion to the Gross Domestic Product (GDP) of eight countries where we have a telco presence. For every USD1 spent on capital expenditure, we generated between USD4.6 and USD8.0 to the country's GDP. Our contributions to national GDPs can be found in our National Contribution Report on page 47.
We believe in enabling a strong digital ecosystem to support a long-term sustainable business. We go beyond commercial motivation through the creation of corporate venture capital funds, ensuring digital access for rural communities, and developing inclusive products and services.
We support the United Nations Sustainable Development Goals to leave no one behind. By working with national and international partners, we are a strategic technology enabler which allows partners to rapidly scale innovative digital inclusion programmes and services to bring tangible impact to the daily lives of people.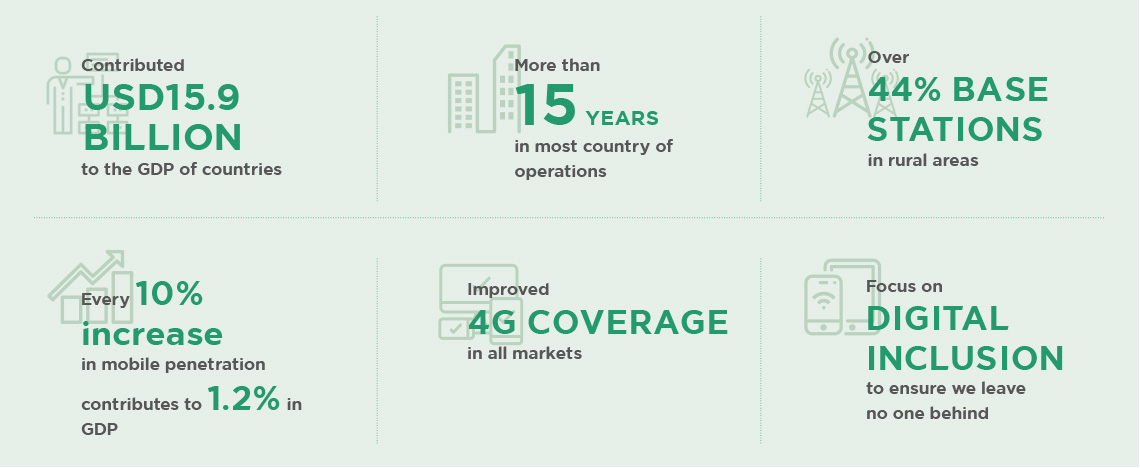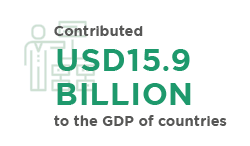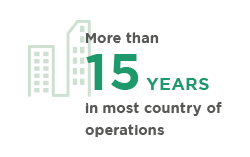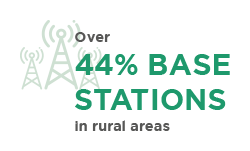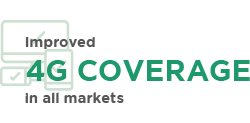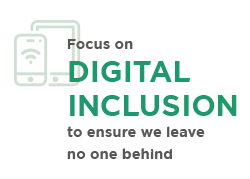 Supporting the Bumiputera Empowerment Agenda in Malaysia
~RM2.32billion to USP fund from 2004 - 2017
RM590 million physical distribution by Bumiputera distributors, and 3,886 Bumiputera dealers
RM1.37 billion spent on Malaysian companies with 69% or RM951 million spent on Bumiputera companies
RM12.84 million in employee training and development
130,981 registered users at Pusat Internet 1Malaysia across the country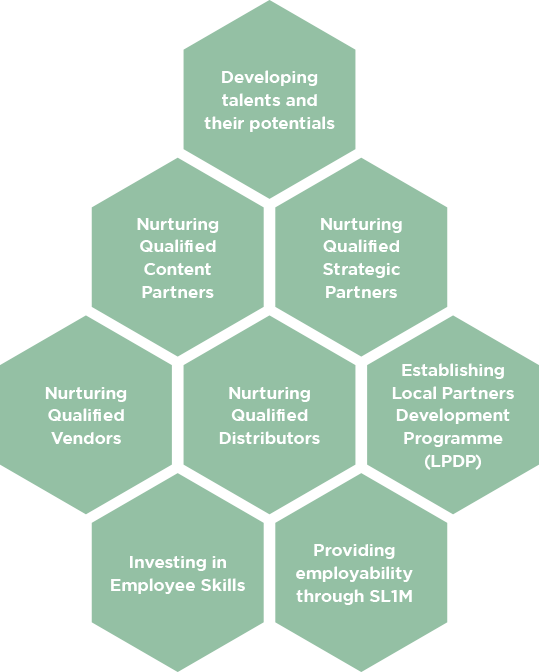 Axiata Partner Development Programme
aims to nurture the development of Bumiputera entrepreneurs. Target to develop four National Champions, two Regional Champions and one Global Champion by 2020
Local Partner Development Programme

Supports capacity building of 50 Bumiputera vendors, business, and strategic partners
Provides additional support and training in partnership with government agencies (MITI, MARA, SME Bank, CEDAR, JCORP, MDEC, MIDF, PUNB, TERAJU)
1,971 SL1M participants since 2014
Celcom's Contributions
Capex since 2008: RM57 billion (Capex and Opex)
Contributed 0.5% to M'sia's GDP in 2017
Over RM9.6billion contributed to Govt in the form of taxes, regulatory fees since 2008
43,800 direct and indirect jobs supported in 2017
Non – KPI Contribution
Badminton Association Malaysia (BAM) – RM34 million until 2020
Axiata Arena – RM55 million over a 10-year term

Digital Ecosystem
Driving the New Digital Ecosystem
---
The Axiata Digital Innovation Fund (ADIF) launched in 2015 is Malaysia's largest corporate venture capital fund to date. We have committed to raise half of the RM100 million fund, with the objective of developing Malaysian digital startups, and increasing Bumiputera equity and participation in the digital economy.
Since its launch, ADIF has invested RM43 million in 14 Malaysian companies, of which over 60% are in Bumiputera held technopreneur companies. With investment of up to RM10 million per company, ADIF presents startups with a unique and competitive advantage to reach approximately 350 million customers across our markets.
In 2017, we launched the USD5 million Smart Axiata Digital Innovation Fund (SADIF) in Cambodia and the USD15 million Dialog Axiata Digital Innovation Fund (DADIF) in Sri Lanka. As the first corporate venture capital fund in both countries, the launch of the respective innovation funds triggered great interest with hundreds of local startups applying to the fund. SADIF and DADIF have already each invested in three digital entrepreneurs since its launch. Both funds aim to invest in at least 12 companies in respective markets over the next five years.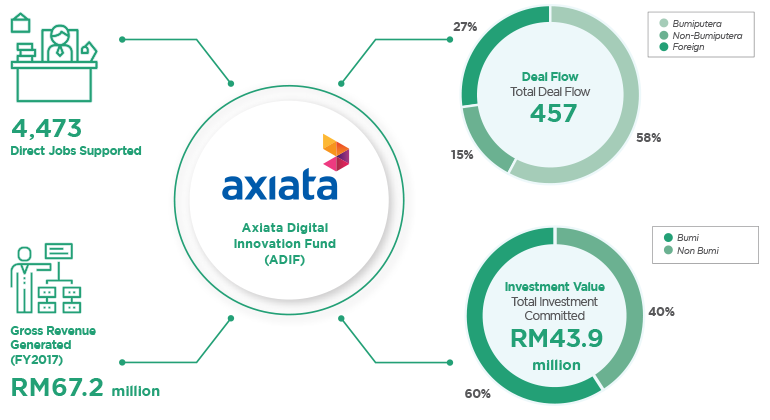 Digital Inclusion
Connecting the Underserved through
Digital Financial Inclusion
---
An estimated 1.6 billion individuals in the developing world transact almost entirely in cash. They are mostly low-income wage earners living in rural and urban poor communities with little or no access to traditional financial services.
The growing smartphone penetration in our markets has made digital financial inclusion a game changer. With mobile connectivity, more people are able to access digital and e-wallet services which improves their quality of life. The disruption that digital financial services inclusion brings allow millions of low-income earners to have for the first time, access to nonformal credit assessments, micro credit loans, insurance and money remittance.
As more people have access to digital financial services, they contribute to the local economy and the overall national development. Micro businesses can access loans to expand their operations. Families are financially protected in times of need. Communities are empowered through international remittance from family members.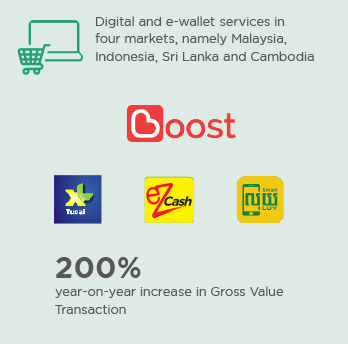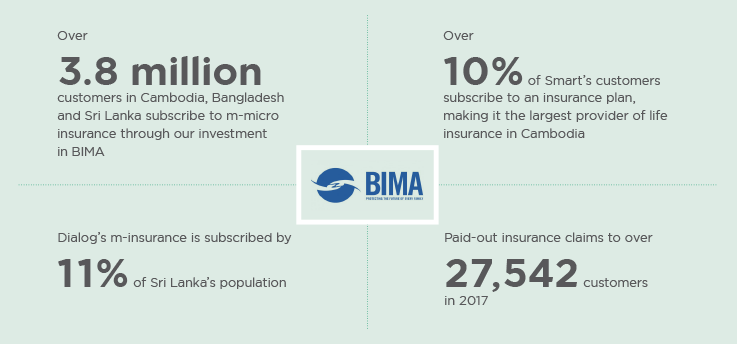 Leveraging Digital Access to Increase Productivity
---
The agricultural sector is one of the primary economic contributors for countries where we operate. Though small-scale farmers produce nearly 70% of food consumed worldwide, they are often one of the most disadvantaged communities, with little opportunity for higher formal education and access to traditional financial services.
Advancement in digital services is an information and financial bridge to rural communities. It can deliver critical information such as good agricultural practices, online agricultural extension services and updates on market prices that help farmers make informed decisions to boost productivity and profits.
Innovation in digital financial services also allows unbanked smallholders to access financial products and services to grow their business enterprises. Through partnerships with governments and the local supply chain, digitisation of the agriculture ecosystem increases production efficiency and reduces crop waste. As the capabilities of IoT continue to advance, digital services and sensors can help improve labour efficiency and contribute to better production yield.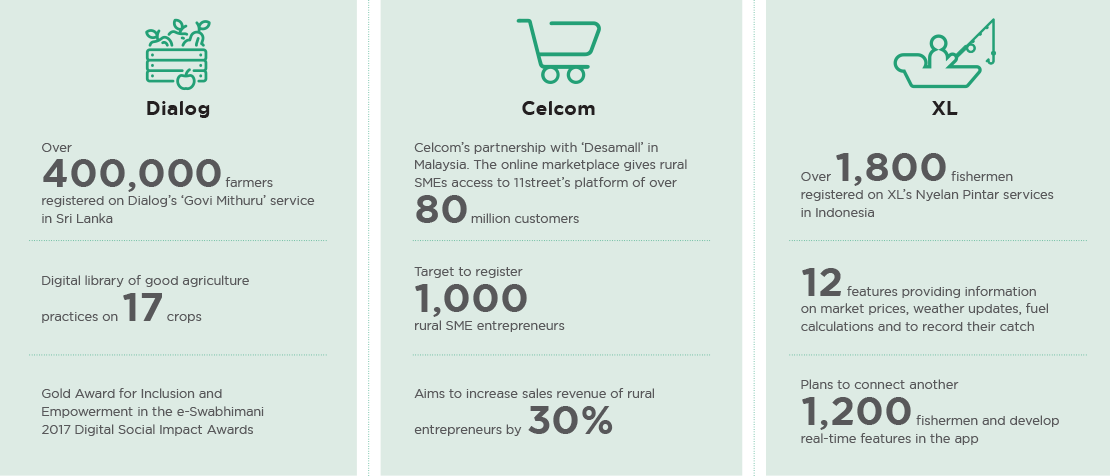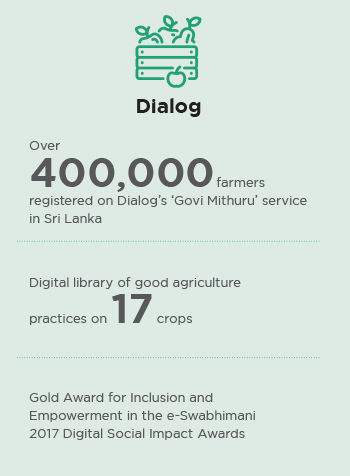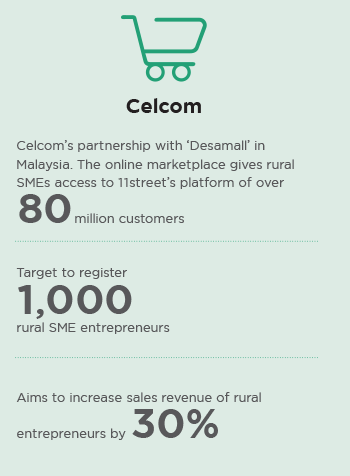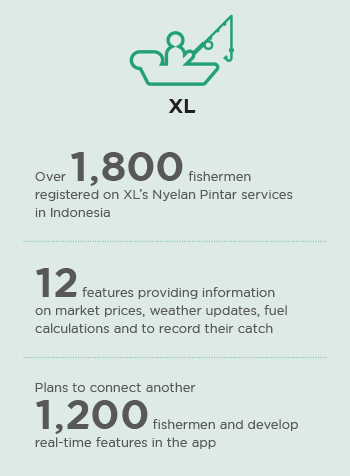 Accessing Quality Education Through Digital Connectivity
---
Education is the bedrock to improving lives of individuals and sustainable development. Major progress has been made in the region towards increasing access to education at all levels and enrolment rates in schools, especially for women and girls. Though basic literacy skills have improved, greater efforts are needed to ensure there is progress towards achieving education for all.
Mobile internet amplifies the impact of technology in learning. Online mobile education makes quality education accessible for all children, especially for those who are poor and living in remote areas. It allows access to the latest information and content to improve the quality of learning. By integrating mobile technologies into classrooms, students have the opportunity to engage and participate, empowering the youth of today for the future.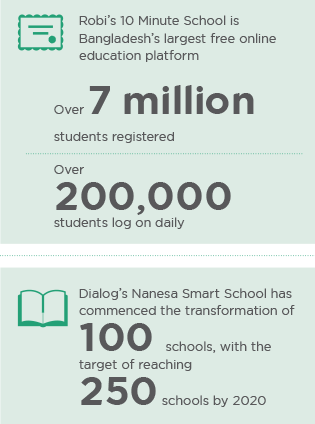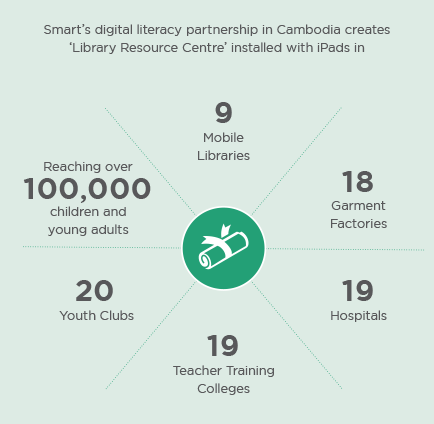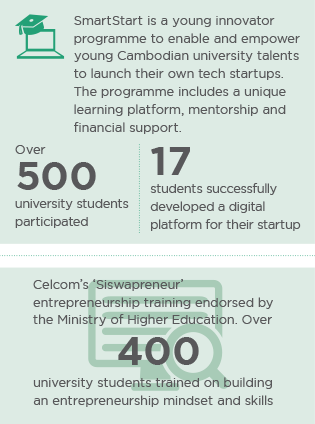 Narrowing the Digital Gender Divide
---
When women thrive, so do families, societies, businesses and the economy. However, all indications point towards women being left behind in our increasingly connected world, particularly in the rural communities. There are an estimated 184 million fewer women owning a mobile phone compared to men in emerging and developing countries.
Closing the gender gap in mobile internet and mobile money services is critically important to deliver significant socioeconomic benefits to underserved women. Mobile technology and services offer opportunities to access education content, employment, finance and health services. Women have also reported that access to mobile phones give them a sense of empowerment and security.
A number of our OpCos have committed to the GSMA Connected Women Initiative (CWI) which aims to increase women subscribers and close the gender digital divide. Working with local partners, they are developing programmes and services that are relevant to their local context to empower women.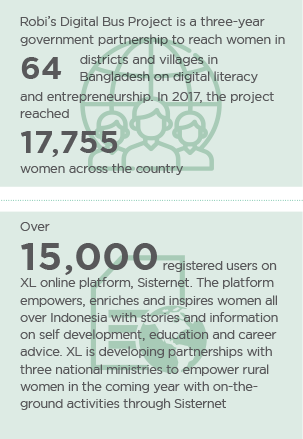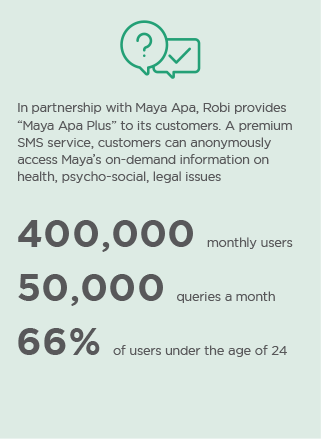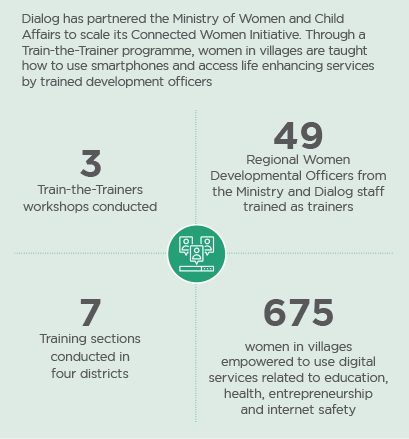 GSMA Partnership
Partnership with the GSMA
---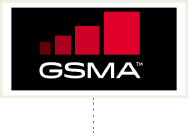 Axiata is a Board Member of the GSMA Foundation. The Foundation aims to demonstrate the positive social impact of mobile technology. The Foundation engages industry partners to develop and pilot projects that utilise mobile communications to relieve the poor, distressed and underprivileged. Axiata Group is committed to the following:


Humanitarian Connectivity Charter
The Humanitarian Connectivity Charter supports Mobile Network Operators in improving preparedness and resilience during times of disaster. Three shared principles commit operators to support improved access to communication and information for those affected by crisis in order to reduce the loss of life and positively contribute to humanitarian response.
Axiata's Business Continuity Management Policy

---

Over
8
million
SMS sent by Dialog and Ncell in partnership with local authorities to evacuate danger areas.
---

RM
300,000
over three years. Axiata Group's sponsorship of Mercy Malaysia's humanitarian missions to countries where we have a presence

Connected Women Initiative
The Connected Women Initiative is aimed at accelerating digital and financial inclusion for women. Targeting low- and middle-income countries, the programme aims to unlock commercial and socioeconomic opportunities through mobile internet education, promote purpose-foruse, and mobile money services.
Dialog
49
Regional Women Developmental Officers from the Ministry of Women and Child Affairs and Dialog staff trained as trainers
675
women in villages empowered to use digital services related to education, health, entrepreneurship and internet safety
Robi
17,755
women in
64
districts and villages trained on digital literacy and entrepreneurship
400,000
monthly users access 'Maya Apa Plus' on-demand information service on health, psycho-social and legal issues